Don't Fall Behind - Take Advantage of Hummel's Top 10 Seasonal Maintenance Tips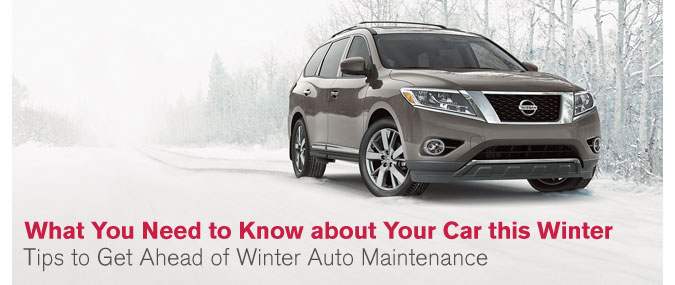 Fall serves as a great reminder to conduct routine maintenance before the first Iowa snow flies.
By taking a few simple steps now, you can prevent breakdowns, keep your family safe and stay on the road. With the holiday season quickly approaching, we spend additional time on the road - often times in treacherous road conditions. The last hing you want to worry about is the reliability of your vehicle. That's why Hummel's has put together a checklist of winter weather maintenance tips for your vehicle.

Get your car ready for winter by checking these 10 vehicle components:

Continue routine oil changes:

Cold weather can be brutal on your engine. Motor oil thickens when cold, which reduces engine circulation and makes it more difficult for the engine to turn over. This can be avoided by utilizing a thinner oil during the winter months. Most vehicles provide a winter viscosity recommendation, which allows for better oil flow at low temperatures. Perhaps one of the easiest maintenance practices for drivers, oil changes are a relatively inexpensive way to prevent costly engine repairs later down the road. Be sure to change your vehcile's oil every three months or 3,000 miles.

Listen to your brakes: Inclement weather is known to hit at any given time in Iowa, and stopping power is a key safety component. This month, have your brake system, including linings, rotors and drums, inspected by a technician to ensure you're ready for the wet, slippery conditions ahead. Listen for any scraping or grinding noise, and pay attention to soft or delayed response. Scraping or grinding may be the result of a foreign particle or need for brake pad replacement, while slow response could mean there is too much air in the brake lines. In either case, allow Hummel's Nissan to inspect your brakes if you notice either of the above.

Make sure you have adequate battery power:

A fully charged battery is necessary to start your vehicle, especially in cold weather. The only accurate way to detect a weak battery is with professional equipment. However, you can perform routine maintenance by scraping away corrosion from posts and cable connections, cleaning all surfaces and tightening connections. Remember, fall is just the beginning of fluctuating temperatures, and cold weather is hard on batteries. A battery test is part of Hummel's routine oil change, so be sure to ask our technician how your battery checked out.

Check tire for wear and tear: Examine tire tread, wear and sidewall to ensure your tires can withstand wet road conditions. As a good rule of thumb, tire lifetime should equate to five years or 60,000 miles. Be sure to check tire pressure on a monthly basis for maximum fuel efficiency and even wear. Tire pressure drops when outdoor temperatures drop, so be sure to keep tires inflated to manufacturer specifications. Remember, it's always a good idea to carry a spare tire especially during the winter months.


 

Invent in winter tires: We often receive the question, do I really need winter tires when I have all season tires? The answer is yes. The two are very different; in fact, winter tires deliver up to 50 percent more traction when compared to all-season tires. So when do you need winter tires? Traction loss appears as temperatures near freezing, even without precipitation, as lower temperatures reduce flexibility and grip. Winter tires use special compounds engineered to resist hardening in cold temperatures, providing better traction. Snow tires can last three or more winter seasons and increase the life span of your other tires.

Check fluid and filters: Fluids are a key component to your vehicle's functionality. Top off fluids, including coolant, brakes, transmission, power steering and windshield fluids before winter hits. When your vehicle is working hard to keep you o n the road, it's important to do your part to ensure it has all components necessary to do its job. Check air filters and replace as needed. Dirty filters not only decrease engine performance and fuel efficiency, but they can also cause engine issues. Filters keep out harmful debris, so if yours is dirty or logged, it is time for replacement. 

Remove extra weight: This includes snow and ice. Take time to brush off excess eight after a snowstorm, remove additional luggage that may still be in your vehicle from a weekend trip or take out sandbags (in clear road conditions) to help improve fuel efficiency. This also entails any bike racks, skis or outdoor equipment that may make your vehicle less aerodynamic during already challenging conditions. 

Replace wiper blades:

Another simple, yet crucial maintenance piece, windshield wiper blades should be replaced twice a year. Streaks and missed expenses of glass are sure signs that your wiper blades will son be in need of replacement. Decreased visibility puts you and your family in danger, especially when dealing with sleet and snow. Wipers are easy to install and will go along way in keeping you comfortable and on the road.

Ensure heater and defroster functionality:

Driving without a functioning heater and defroster is not only uncomfortable, but also unsafe. Extreme lows in temperature can occur without warning, and it's important to keep you and your passengers warm and the road visible. Be sure to check the heater and both front and rear defroster prior to the first cold spell.   

Inspect lights: Fall means shorter days and more time spent driving in the dark. Walk around the outside of your vehicle and check the operation of all lights, including headlights, tail lights, parking lights, brake lights and emergency lights (hazards). Replace broken or burnt out lights, ensuring all vehicle lights are clean and free of dirt and debris.